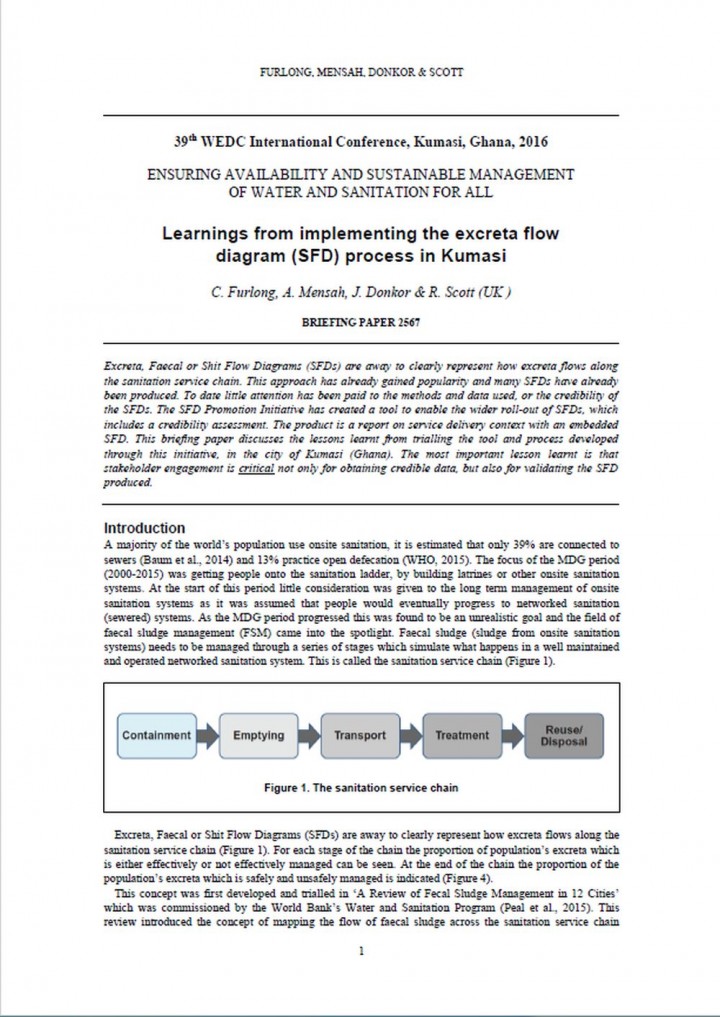 Author(s): Furlong, C., Mensah, A., Donkor, J., Scott, R.
Published in: 2016
Pages: 6
Publisher:
Download
Learnings from implementing the excreta flow diagram (SFD) process in Kumasi
Abstract:
Excreta, Faecal or Shit Flow Diagrams (SFDs) are away to clearly represent how excreta flows along the sanitation service chain. This approach has already gaines popularity and many SFDs have already been produced. To date little attention has been paid to the methods and data used, or the credibility of the SFDs. The SFD Promotion Initiative has created a tool to enable the wieder roll-out of SFDs, which includes a credibility assessment. The product is a report on service delivery context with an embedded SFD. This briefing paper discusses the lessons learnt from trialling the tool and process developed through this initiative, in the city of Kumasi (Ghana). The most important lesson leanrt is that stakeholder engagement is critical not only for obtaining credible data, but also for validating the SFD produced.
Keywords
Kumasi, SFD, KMA, excreta management, MGDs, low income areas, public toilet