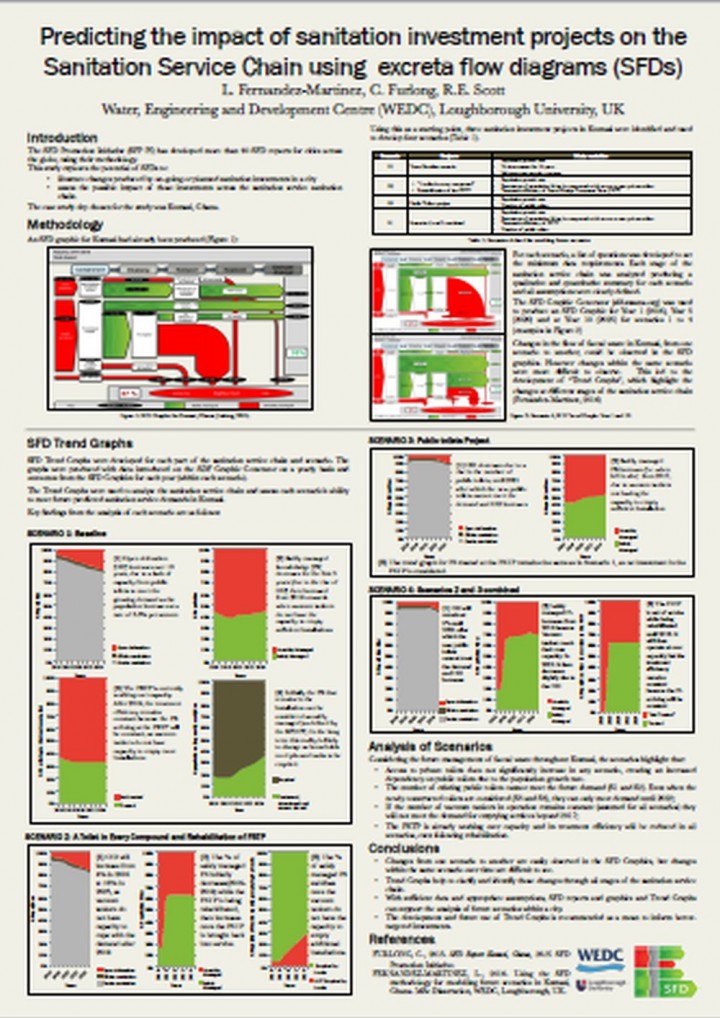 Author(s): Fernandez-Martinez, L., et al.
Published in: 2017
Pages: 0
Publisher: WEDC
Download
Predicting the impact of sanitation investment projects on the Sanitation Service Chain (SSC), using excreta flow diagrams (SFDs)
Onsite sanitation systems are the predominant sanitation option worldwide (Medland et al., 2015). High population density in cities in low-middle income countries means that faecal sludge (FS) from onsite systems cannot be managed safely onsite. This creates a need for safe management of the FS through the sanitation service chain (SSC) (Hawkins et al. 2013). The movement of FS and wastewater through the SSC can be illustrated by an Excreta Flow Diagram (SFD), which provides a strategic overview of the sanitation situation in the city (Blackett and Evans, 2015).
The SFD methodology developed through the Shit Flow Diagram Promotion Initiative (SFD.susana.org/) has been applied in over 40 cities worldwide. As part of this SFD Promotion Initiative, the SFD for Kumasi (Ghana) was developed by WEDC and Kumasi Metropolitan Assembly (Furlong, 2015), which provides the basis for this research. The main use of SFDs has been as an advocacy tool. This research explores the use of the SFD methodology to model the impact over a 10 year period of sanitation investment projects that are currently happening in Kumasi. Due to the nature of SFDs, this impact can be assessed across the whole SSC, allowing stakeholders to see how future investment projects may change the flow of excreta in cities.

The poster was presented at the FSM4 conference from 20-22 February 2017 in Chennai, India.
Keywords
SFD; faecal sludge; Kumasi; SSC; urban sanitation