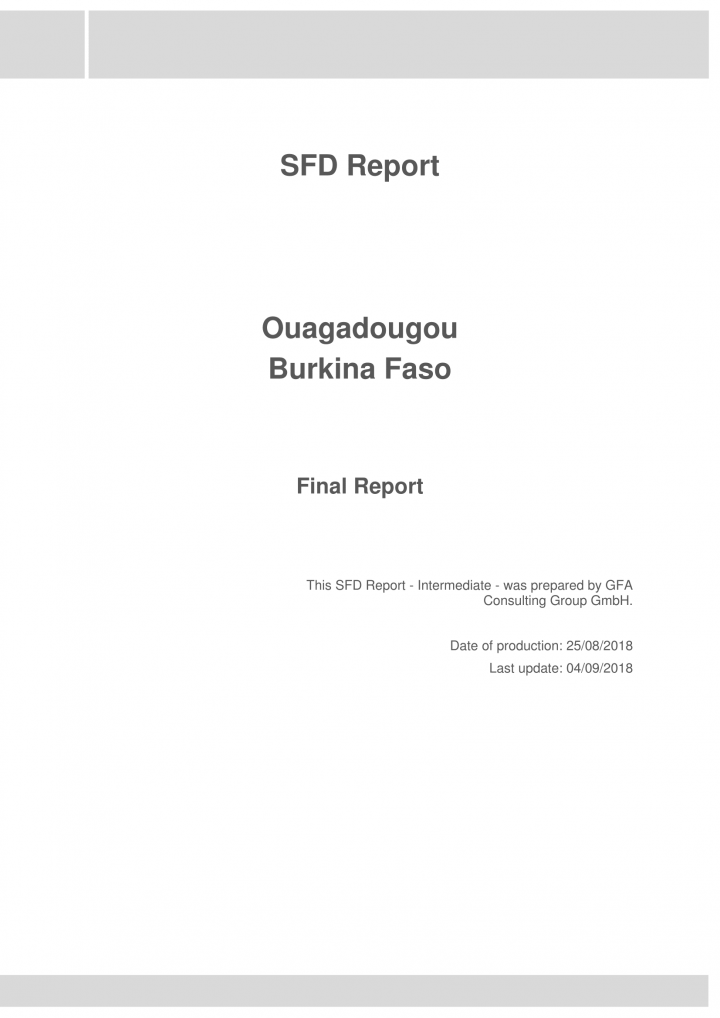 Author(s): Kajyibwami, J., Burchard-Levine, A.
Published in: 2018
Pages: 39
Publisher: GFA Consulting Group GmbH, Hamburg, Germany
Download
SFD Report - Ouagadougou, Burkina Faso (in English and French) SFD Promotion Initiative
Ouagadougou is the capital of Burkina Faso and the largest city of the country. It is located in the central region of Burkina Faso and had a population of 2,532,311 in 2015 (INSD, 2015) and projected total population of more than 2.7 million in 2017 (ONEA, 2017). The population density is estimated to be 903 persons per km2 within its municipal council area of 2,805 km2. Additionally, the annual growth rate of the population is estimated to be 7.6% (INSD, 2006).
Less than 0.4% of the population is connected to a sewer. 93% of the population uses onsite sanitation systems, which are mainly pit latrines and septic tanks. Around 3% of the population practices open defecation. Only 36% of the excreta in Ouagadougou is managed safely, which means that 64% is unsafely managed.
This report is available in English and French.
Keywords