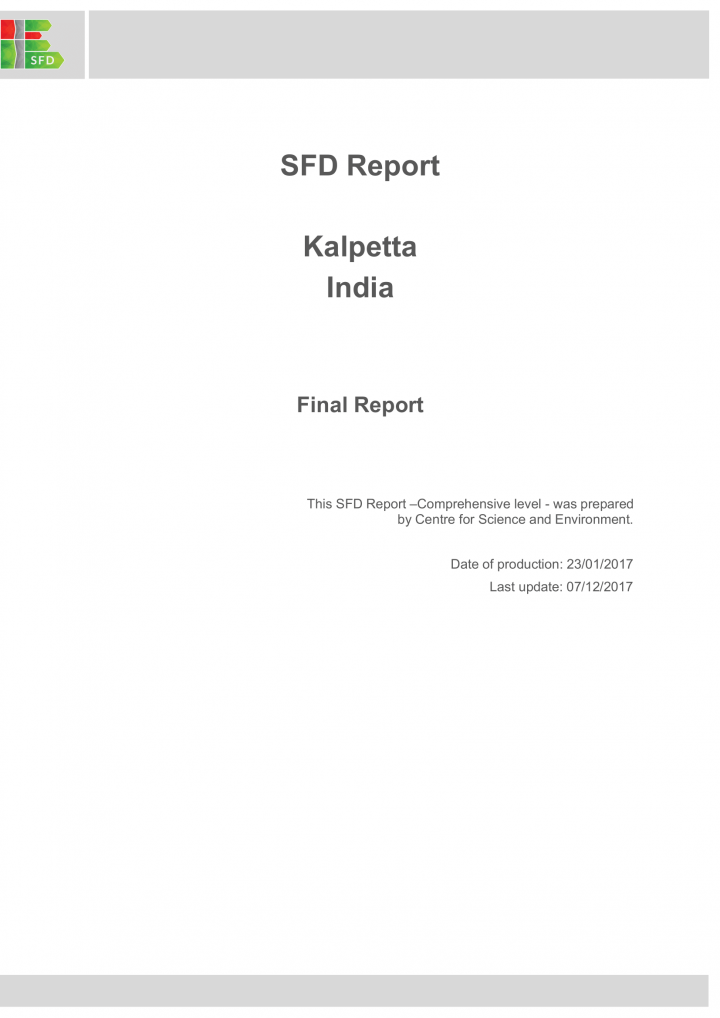 Author(s): Rohilla, S. K., Luthra, B., Yadav, A., Gupta, B.
Published in: 2017
Pages: 43
Publisher: SFD Promotion Initiative, Centre for Science and Environment (CSE), India
Download
SFD Report - Kalpetta, India
Kalpetta is a town and a municipality in the Wayanad district, of Kerala, India. It is the headquarters of Wayanad district as well as the headquarters of Vythiritaluk. It is a bustling town surrounded by dense coffee, tea plantations and hills (KM, 2015).
Apart from being the administrative capital of the district, Kalpetta is also the centre of tourism, as it is currently located within the two districts and due to its proximity to most visited tourist sites (WTO, 2017).

There is no household connected to functional underground drainage system. Most of the households in the city (60%) are dependent on three chambered septic tanks connected to soak pits. Whereas the rest (36%) are dependent on pit latrines constructed with concrete rings or granite stones with open bottoms. Sizes of containment systems depend on space availability and affordability of the households. The septic tanks are constructed according to the Kerala Municipal Building Rules (KMBR) 1999. About 4% of population defecates in the open. It is mostly practised tribal areas and near riparian of River Moniyangod. There are three public toilets catering tourists, visiting the city, and seven community toilets catering the local residents deprived of individual toilets (KM, 2016).
Keywords