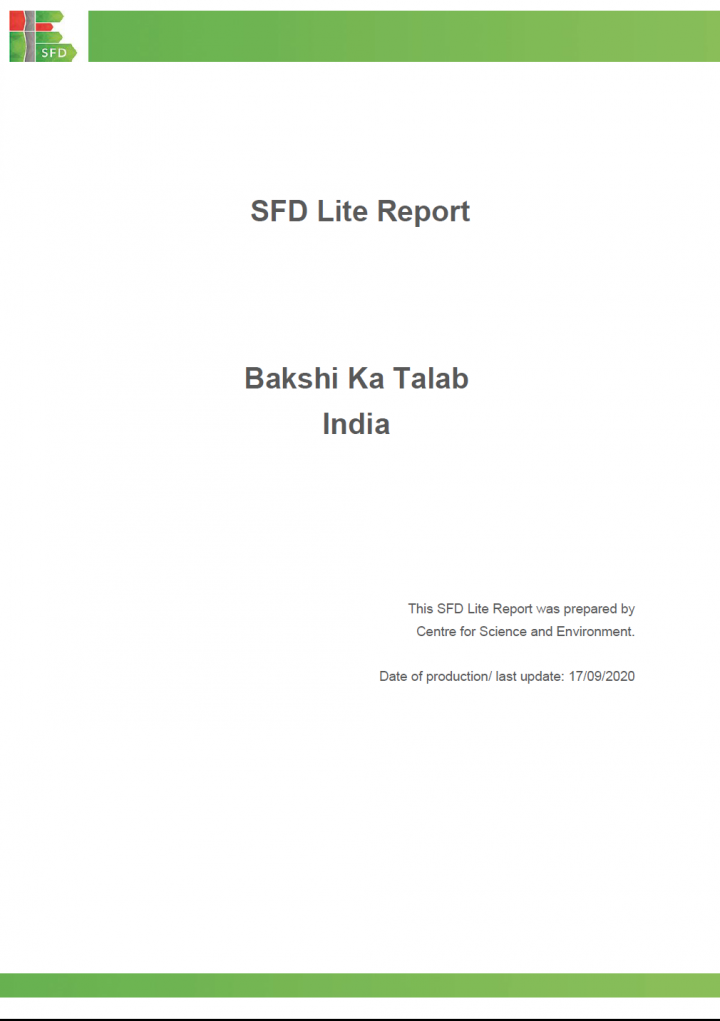 Author(s): CSE
Published in: 2020
Pages: 8
Publisher: Centre for Science and Environment
Download
SFD Lite Report - Bakshi Ka Talab, India
Bakshi Ka Talab Nagar Panchayat is a city under the Bakshi Ka Talab sub district of Lucknow district in the state of Uttar Pradesh in India. City is an organised settlement developed by Lucknow Development Authority (LDA). The city gets its name as Bakshi Ka Talab, which was constructed in 1807 by King Tripuresh Chandra Bakshi, while enroute to Nepal and took a halt in the area.
The population of the city, as per the Census of India, 2011 is 49,166. Population density of the city is 1173 persons per sq.km, which is relatively high, when compared to that of Uttar Pradesh, i.e. 828 persons per sq.km. The current population (2019) as per ULB data is 54,082. The urban local body governing the town is Bakshi Ka Talab Nagar Panchayat (BKTNP). BKTNP has an administrative area of 41.9 sq.km which is divided into 19 wards.
The geographical coordinates of Bakshi ka Talab are 26.590°North and 80.530°East. The topography of Bakshi Ka Talab is majorly plain.The average rainfall is 963 mm. Temperature rises to 45°C and drops to 5°C. The soil type is clayey and sandy with occasionally silty. Table 1 shows the population growth in Bakshi Ka Talab in past two decades.
Keywords