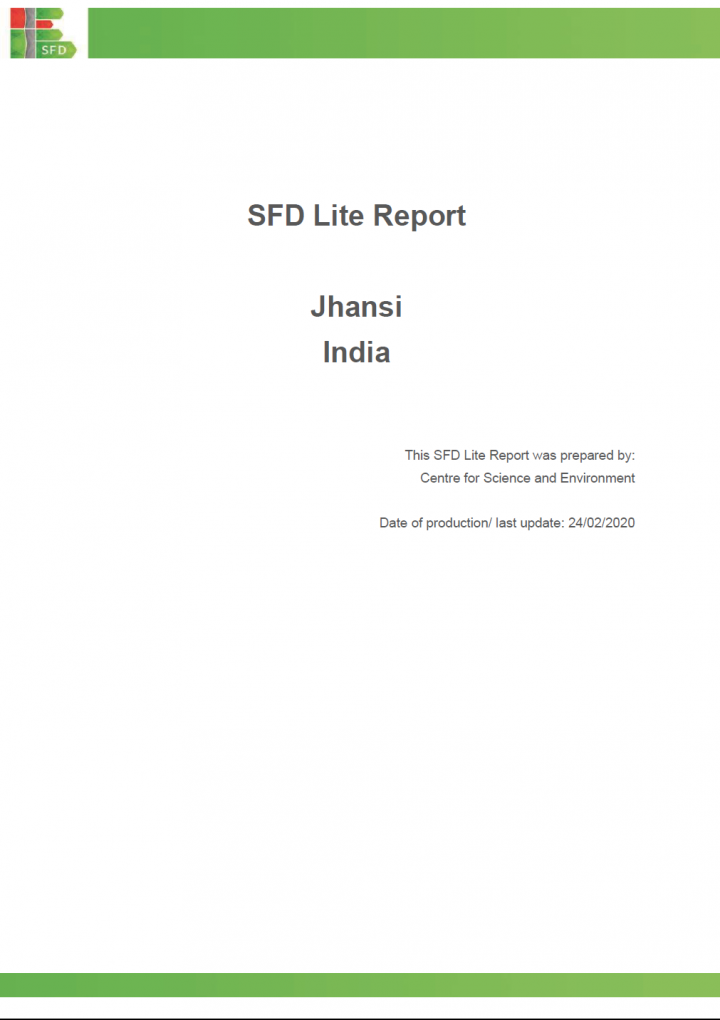 Author(s): CSE
Published in: 2020
Pages: 9
Publisher: Centre for Science and Environment
Download
SFD Lite Report - Jhansi, India
The city of Jhansi is called as the Gateway to Bundelkhand, situated between the rivers Pahuj and Betwa at an average elevation of 285 metres (935 feet). It is about 415 kilometres from New Delhi and 99 kilometres south of Gwalior. Jhansi is a major commercial, tourist and educational centre in the Bundelkhand region of Uttar Pradesh state. In addition, there is a major industrial area at Bijauli.
Jhansi city is governed by Jhansi Municipal Corporation or Jhansi Nagar Nigam (JNN). It covers an area of 150 sq. kms and is divided into 60 wards. According to 2011 Census, Jhansi city has a population of 505,693 and density of 3372 people per sq.km. It has 91,150 households (Census 2011). As per departmental data 2020, the population of Jhansi has increased to 622180 in 2020 and total number of households is 124436 which is used for preparation of SFD 2020.
Jhansi is located at 25.4333 N 78.5833 E. It has an average elevation of 284 metres (935 feet). Jhansi lies on the plateau of central India, an area dominated by rocky relief and minerals underneath the soil. The climate is sub-humid, and it is characterized by a hot dry summer and cold winter. The average annual normal rainfall is 885 mm. About 91% of rainfall takes place for June to September.
Keywords