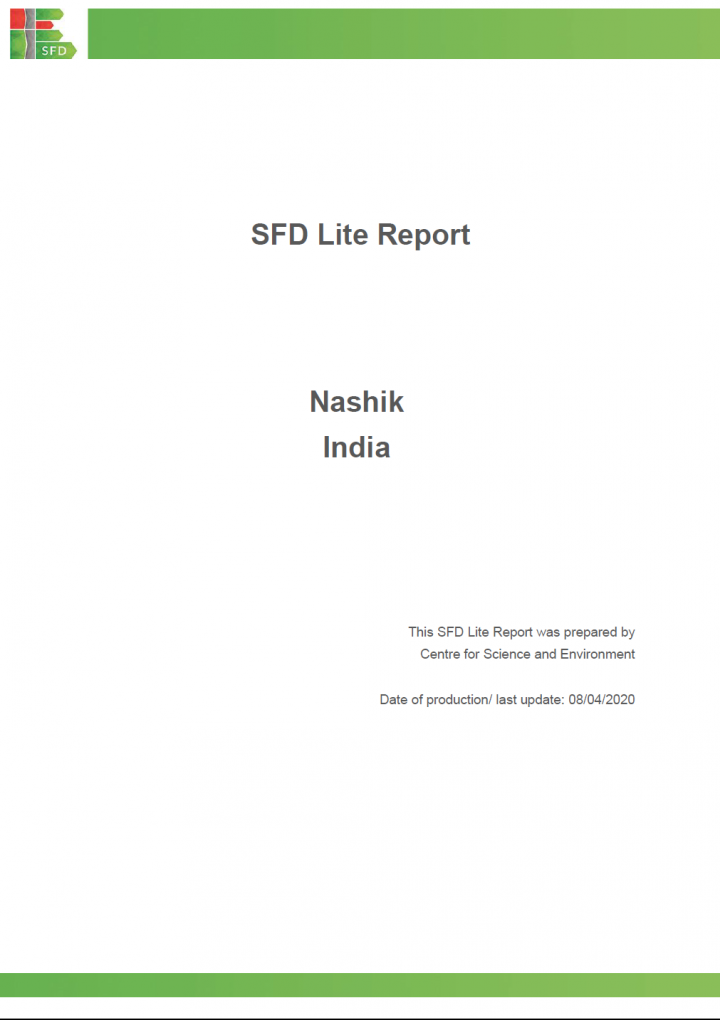 Author(s): CSE
Published in: 2020
Pages: 8
Publisher: Centre for Science and Environment
Download
SFD Lite Report - Nashik, India
Nashik is an ancient Indian city situated on the banks of river Godavari. Geographically, it is located in the northwest part of the state of Maharashtra in the Western Ghats with mean elevation of about 565 msl at 20.00° N and 73.78° E. Its historical value attracts lots of tourist throughout the year and results in the diurnal floating population of about 2,00,000. The city additionally hosts the Simhashth Kumbh Mela Festival once in 12 years in Godavri River which attracts about 5,000,000 pilgrims within a week. (NMC, 2020)
Nashik Municipal Corporation is a first grade ULB which is divided into 6 administrative zones. According to 2011 census, the population of the city was 14,86,053 and total no. of households (HH) was 3,36,333 and spread across an area of 259.13 sq km. The current population of the city is 22,40,0002 and total no. of households (HH) is 3,80,000 with population growth rate of 4.66 which is divided into 31 election wards. The current population plus floating population is used for preparation of SFD.
Nashik has a tropical climate with max temperature in summers of 42.5° C and min temperature in winter less than 5° C and annual rainfall3 of about 890.3mm (mostly June-September). The risk of groundwater contamination is low as the depth of water level ranges from 5-10 m to less than 2 m in pre-monsoon and post-monsoon4 respectively (Central Ground Water Report, Nashik, 2014). The water supplied in the city is predominantly through 3 surface water sources namely Godavri River, Darna River & Mukane River. The total water supply in the city is 479.89 MLD and after the water losses, it is around 335.40 MLD with per capita water supply of 135 LPCD (KII-1, 2020).
Keywords