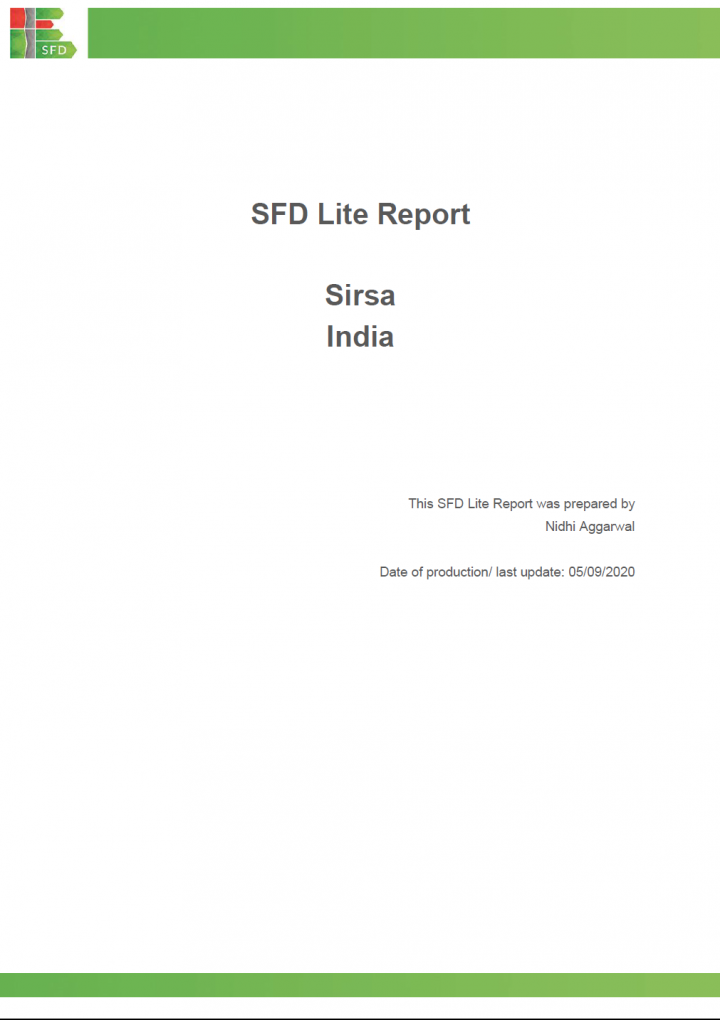 Author(s): Aggarwal, N.
Published in: 2020
Pages: 7
Publisher: Centre for Science and Environment
Download
SFD Lite Report - Sirsa, India
The Sirsa city is a municipal council and the headquarter of Sirsa district in Haryana. It is located at mean elevation of about 205 msl at 29.53°N 75.02°E. It is about 260 km NW of New Delhi and 240 km from state capital of Chandigarh. The city covers an area of 26 km2. It is said to be one of the oldest places of North India and its ancient name was Sairishaka, which finds its mention in Mahabharata.
As per census 2011, the population of the city was 1,82,534 and the number of households was 36191, with an average annual growth rate of 2.3%. The current population of the city is 2,24,4941 including 2% floating population and total no. of households (HH) is 42705 (SBM, 2020 and KIIs with ULB & PHED). The municipal boundary and current population is used for preparation of SFD.
Sirsa has a dry arid climate with extreme temperatures and scanty rainfall. Sirsa has max. temperature2 in summers of 34.6° C and min temperature in winter less than 13.3°C. The average annual rainfall lies between 253 – 318 mm3. The topology of the city is generally flat with a gentle slope towards south west (CGWB, 2017). The city has sandy loam soil with variable degrees of salinity. The risk of groundwater contamination is low as the depth of groundwater level is more than 80 m4. The total water supply in the city is 31 MLD with per capita water supply of 135 LPCD predominantly through canals and ground water with 107 tube wells spread all across the city (KII-9, 2020). Ghaggar river flows in close vicinity to the city.
Keywords