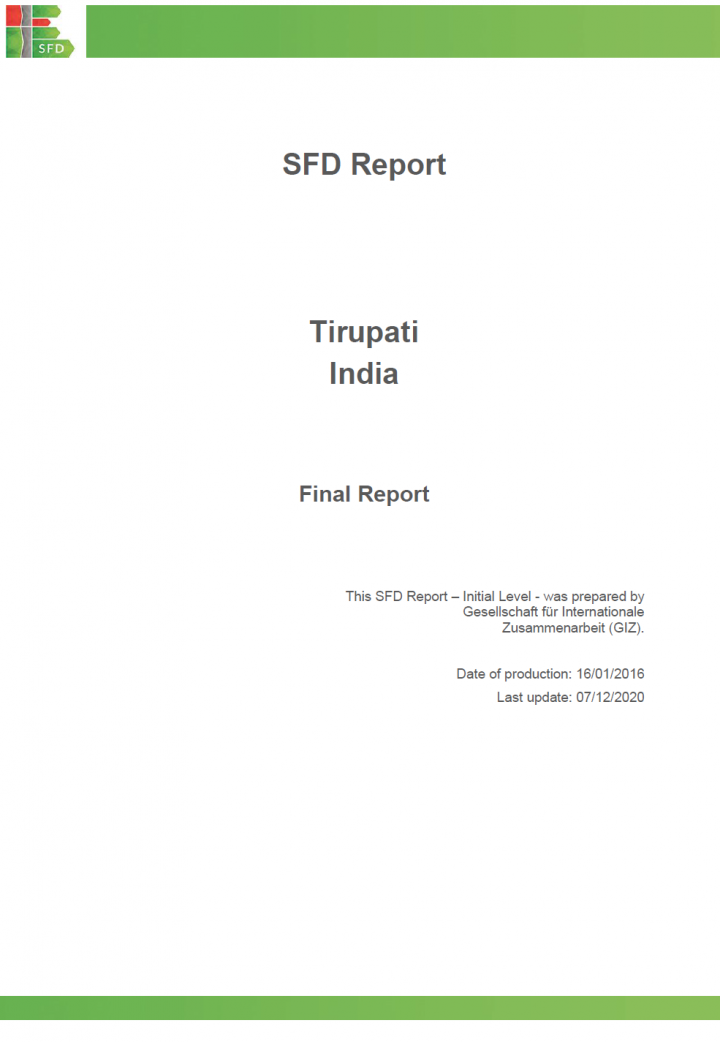 Author(s): Roeder, L.
Published in: 2016
Pages: 27
Publisher: GIZ
Download
SFD Report -Tirupati, India
Tirupati is situated in Chittoor district in the southern of the state of Andhra Pradesh. The town is administered by the Municipal Corporation of Tirupati (MCT) and is divided into 36 wards.

The city covers an area of about 27 km2 with a total population of just under 375,000 (Census, 2011; GIZ, 2014). The current decadal growth rate lies at 26 %, which results in a population growth of 2.3% per year (GIZ, 2014). The town is a pilgrimage centre and attracts a total diurnal floating population of about 55,000. During religious festivals, the diurnal floating population exceeds 100,000 (MCT, 2011).

Most trade and commerce activity in the city is related to pilgrims and tourists entering the town. Other economically important sectors are: textile manufacturing and agriculture (GIZ. 2014). Annual rainfall in Tirupati is about 1,000mm with a peak in the monsoon season from July to October. This SFD Report was prepared by GIZ in 2016 and reviewed in 2020.
Keywords