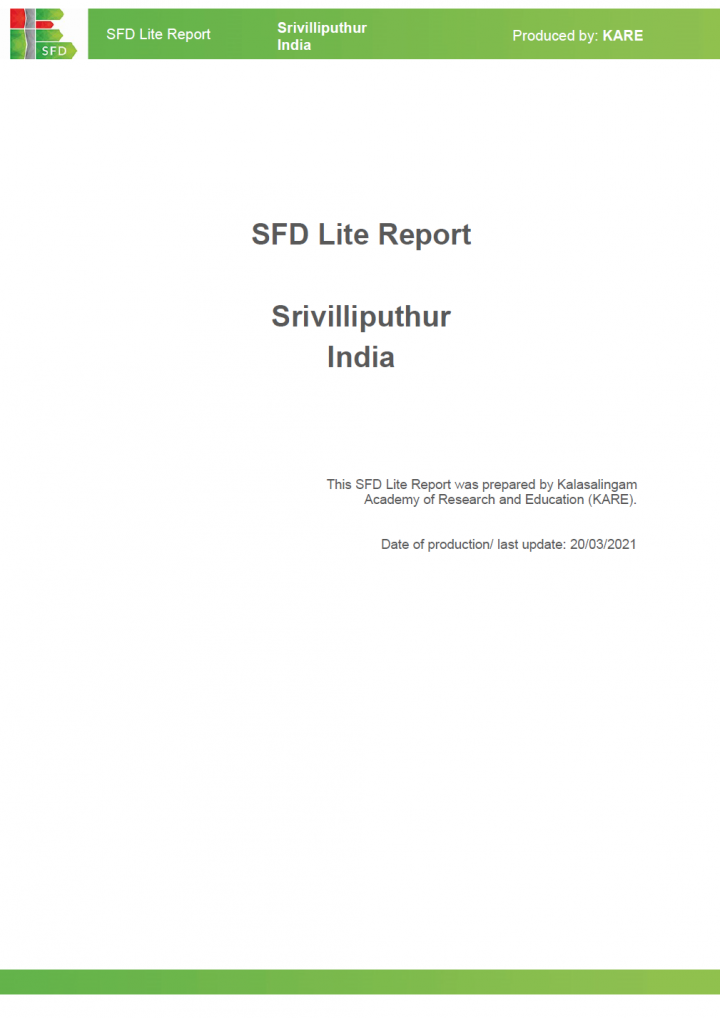 Author(s): Sharma, K., Ramesh, B. K.
Published in: 2021
Pages: 11
Publisher: Kalasalingam Academy of Research and Education (KARE)
Download
SFD Lite Report - Srivilliputhur, India
Srivilliputhur is a town and promoted as a first-grade municipality in the year 1984 located in north of Rajapalayam in Virudhunagar district in the Indian state of Tamilnadu. As of 2011, the town had a population of 75,396.

The town is known for its famous Lord Andal temple which is a 192 (58.5 m) feet long tower structured temple, lord said to be as vatapatsayee. Srivilliputhur is located at 9.51610N 77.630 E (Figure 1). The town is located at the foothills of Western Ghats 77 km south west of Madurai. The town is also famous for the wild life sanctuary for Grizzled Giant Squirrel established in 1894.

Shenbagathoppu is a forest located 8 km west of Srivilliputhur. It has an average elevation of 137.2 m above mean sea level. There is notable mineral source available in and around the Srivilliputhur and it receives an scanty rainfall with an average of 811 mm annually, which is lesser than the state average of 1,008 mm. Many rare endemic varieties of flora and fauna are found along the mountain slopes.

Srivilliputhur has an aera of 5.718 km2 containing 33 wards and an elected councillor for each of these wards. The functions of the municipality are developed into various departments, comprising: General administration/personnel engineering, Revenue, Public Health, City Planning and Information Technology (IT), all are under a municipal commissioner. As of 1994, the space allocated for various activities in Srivilliputhur.
Keywords