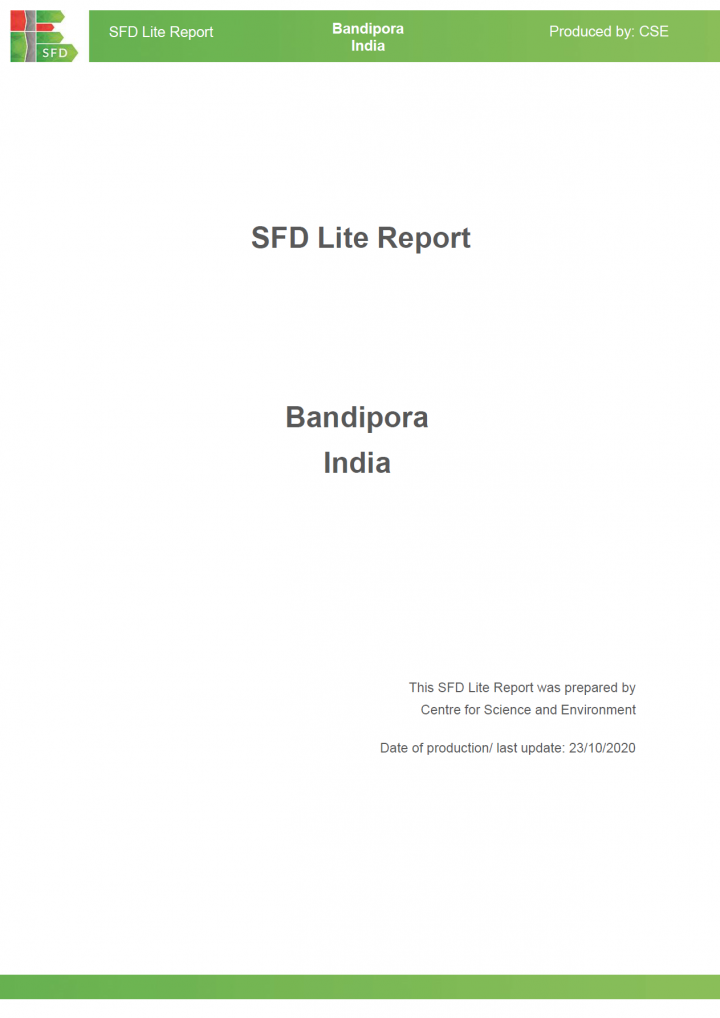 Author(s): CSE
Published in: 2020
Pages: 9
Publisher: CSE
Download
SFD Lite Report - Bandipora, India
Bandipora city is the headquarters in Bandipora District. Bandipora District is one of the 22 districts of Jammu and Kashmir Union Territory. The District lies in Northern Kashmir with Baramulla District in South and Kargil District in East. It is the 14th largest District by population in Jammu and Kashmir.

Bandipora city is located at a distance of 47 km from Srinagar and at a distance of 330 km from Jammu. It is located at mean elevation of about 1701 msl at 340 25' 12" North and 740 39' 00" East. The urban local body governing the town is Bandipora municipal council (BMC). Bandipora municipal council recently got promoted to a council status from a committee in July 2020. According to the 2011 census, the population of the city was 37081 and total number of households was 5584. BMC has an administrative area of 13.40 sq.km which is divided into 17 wards.

Bandipora city is located on the banks of Wular lake, Asia's largest freshwater lake. In the recent years, the lake has been polluted due to inadvertent dumping of the polluted river waters and sewage affluence has led to a pandemic growth of algae in the waters of the Wular which is threatening the lake and its supporting life itself. The main source of pollution to Wular is Jhelum River. The Jhelum River carries all the waste from Srinagar city and other surrounding areas and deposits it in Wular.

The topography of Bandipora city is hilly since it lies at the foothills of Himalayas. The average rainfall is about 1,200 mm per annum. The climate in the district is temperate cum mediterranean with cold weather in most part of the year. Average minimum and maximum temperature ranges from -10 to 32 degree Celsius. The soil type is silt clay loamy (70%) and sandy loamy soil (30%)1. The water supplied in the city is predominantly through piped system4. The total water supply in the city is 4.8 Million Litres per Day (MLD) with per capita water supply of 135 Litres Per Capita and per Day (LPCD).
Keywords