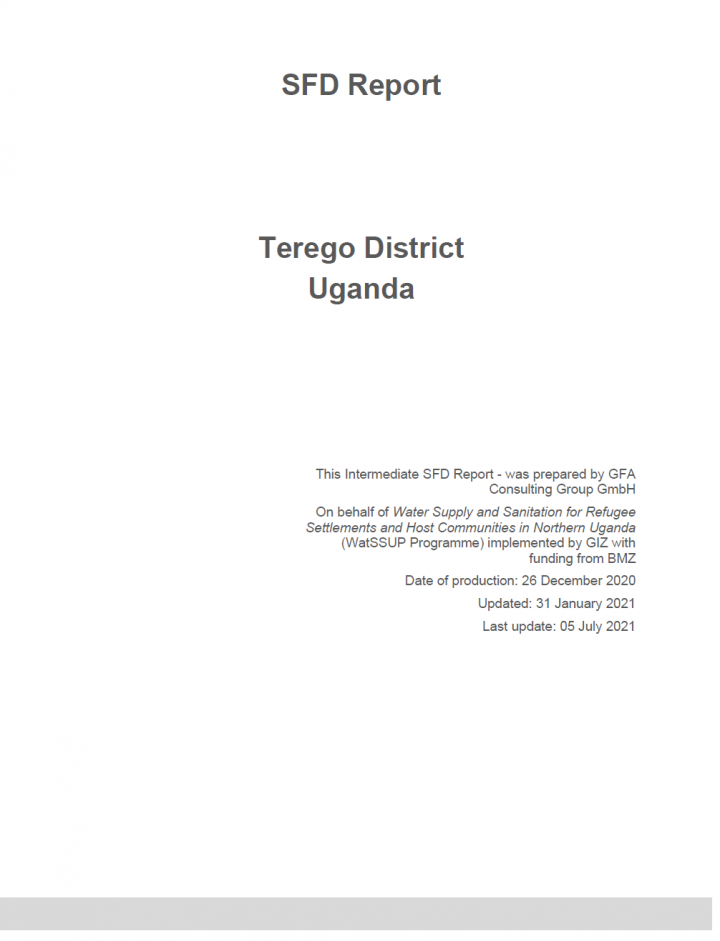 Author(s): GFA Consulting Group GmbH
Published in: 2021
Pages: 39
Publisher:
Download
SFD Report Terego District Uganda
Terego District is a newly established district in the West Nile part of the Northern Region of Uganda. The district comprises of six sub-counties: Aii-Vu, Bileafe, Katrini, Odupi, Omugo, Uriama and 39 parishes. The administrative headquarters of Terego District is Leju trading centre in Aii-Vu sub-county (The Independent, 2020). Terego district hosts significant refugee populations in Imvepi Refugee settlement (Odupi sub-county) and Rhino Refugee Settlement, which stretches over parts of Odupi, Omugo, and Uriama sub-counties and extends into Madi-Okollo District.

According to population projections of the Uganda Bureau of Statistics (UBOS), the non-refugee population of Terego District for 2020 was estimated at 233,300 people (UBOS, 2019).

The scope of this report includes the non-refugee host communities of Terego district and the refugee populations of Imvepi and Rhino refugee settlements. For Rhino refugee settlement, the population figure was reduced by the refugee communities living in settlement pocket located in Rigbo sub-county (Madi-Okollo District). As a result, the total population covered by this report is 394,319.

The district can be characterised as rural. The main economic activity among both the host and refugee communities is some form of agriculture, mainly crop cultivation at subsistence scale (ILO, 2020).
Keywords