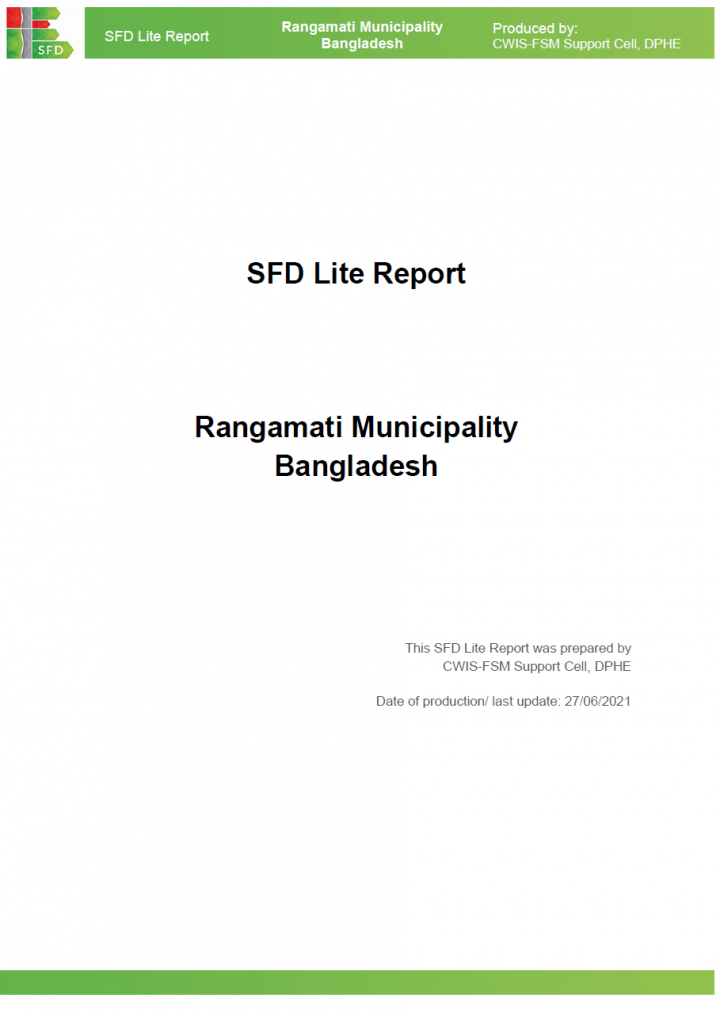 Author(s): CWIS-FSM Support Cell, DPHE
Published in: 2021
Pages: 10
Publisher: CWIS-FSM Support Cell, DPHE
Download
SFD Lite Report Rangamati Municipality, Bangladesh
Rangamati Hill District is a district in south-eastern Bangladesh. It is a part of the Chittagong Division and the town of Rangamati serves as the headquarters of the district. By area, Rangamati is the largest district in the country. Rangamati is one of the 53 district-level Municipalities in the country.

According to the population census in 2011 by the Bangladesh Bureau of Statistics (BBS), the Rangamati city population was 84,000. The urban population growth in Bangladesh is 3.5% per year. Considering 10% floating population, such as farmers and traders, comes to the city every day, the present (2020) population is estimated to be around 113,085 (Table 1).

The municipality covers an area of 64.76 square kilometres. At present, the municipality has 108.60 km of road out of which 56.92 km is bituminous road, 22.17 km is Cement Concrete (CC) road, 2 km is Herring-Bone-Bond (HBB) road, 1.00 km is Brick Flat Soling (BFS) road, and 26.51 km is earthen road. The city has about 60.29 km of drain which includes 3.0 km of brick drain, 21.69 km of Reinforced Cement Concrete (RCC) and 35.7 km of the earthen drain.
Keywords