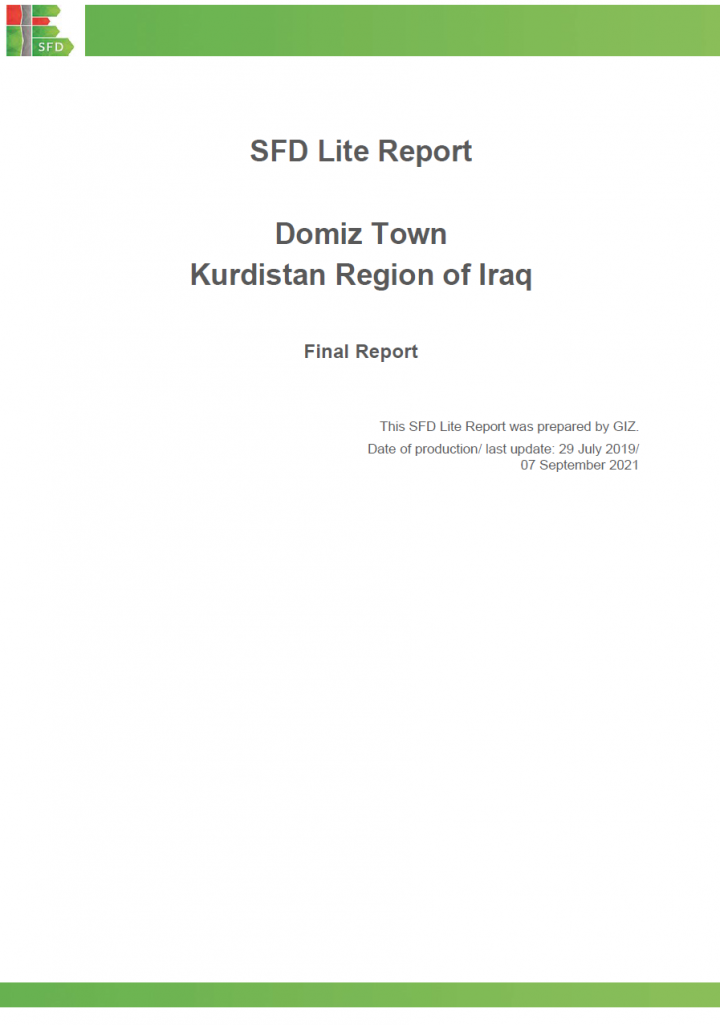 Author(s): GIZ
Published in: 2021
Pages: 12
Publisher: GIZ
Download
SFD Lite Report Domiz Town Kurdistan Region of Iraq
This SFD Lite relates to the older part of Domiz Town, rather than the newer developments, for which it is difficult to obtain any information for. Domiz town is located, near the city of the Duhok, in the Kurdistan Region of Iraq. It is approximately 16km to the south of Duhok, along the highway to Mosul, which is 65km further south. Based on an interview with Engineer Falah, Maintenance and Operation Centre, Sewage Department, Domiz, the planned for population in the older part of the town, which this SFD Lite relates to is 10,250 people. (Elaborated further below, in Table 1). According to Engineer Falah, no specific population growth statistics were found for Domiz Town, as it is generally included as part of the overall Duhok growth figures.

The location of the town is along the disputed boundary line pertaining to KRI and Iraq and up until 2003, the town was located on the Iraqi side of the border.

The town was established in 1989 as a housing base for officers in a nearby military camp. The original development was one of five carried out in Iraq by a French construction company and the later the town began to expand around this initial development. Because the town was originally within the Iraq borders, it was administrated from Mosul. In fact, it still is to this day, however there is no active management of the utilities from Mosul and the staff at the Sewage Department office in Domiz look after the sanitation, as there seems to be confusion as to the administrative boundaries and responsibilities, because of the disputed border location.
Keywords