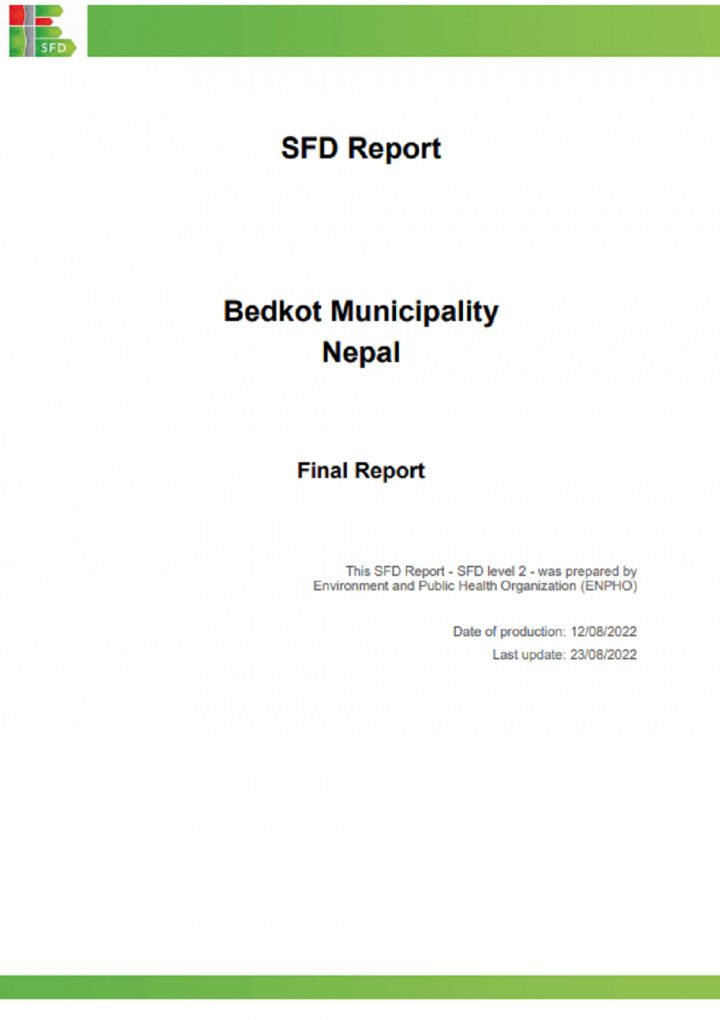 Author(s): ENPHO
Published in: 2022
Pages: 50
Publisher: ENPHO
Download
SFD Report – Bedkot Municipality, Nepal
Bedkot Municipality is in Kanchanpur District of Sudurpaschim Province, Nepal with an area of 158.5 sq. km. The proposed area of the municipality is formed by merging former Suda Village Development Committee (VDC) and Daiji Village Development Committee in 10 wards. It lies at 28.57o N latitude and 80.1348o E longitude spreading over Northern Terai and Siwalik range.

A population of 49,479 is residing in the municipality with a growth rate 1.7%. The climatic condition of the Municipality is Tropical Savannah with mean annual air temperature above 26oC and mean annual precipitation within the range of 1,800-2,000mm.

Kanchanpur district was declared Open Defecation Free (ODF) on December 22, 2018. Still, Bedkot Municipality of the district has 4.02% of people practising open defecation. Of the households with toilets, 99.44% have onsite sanitation system and 0.56% have offsite sanitation system in the municipality.
Keywords