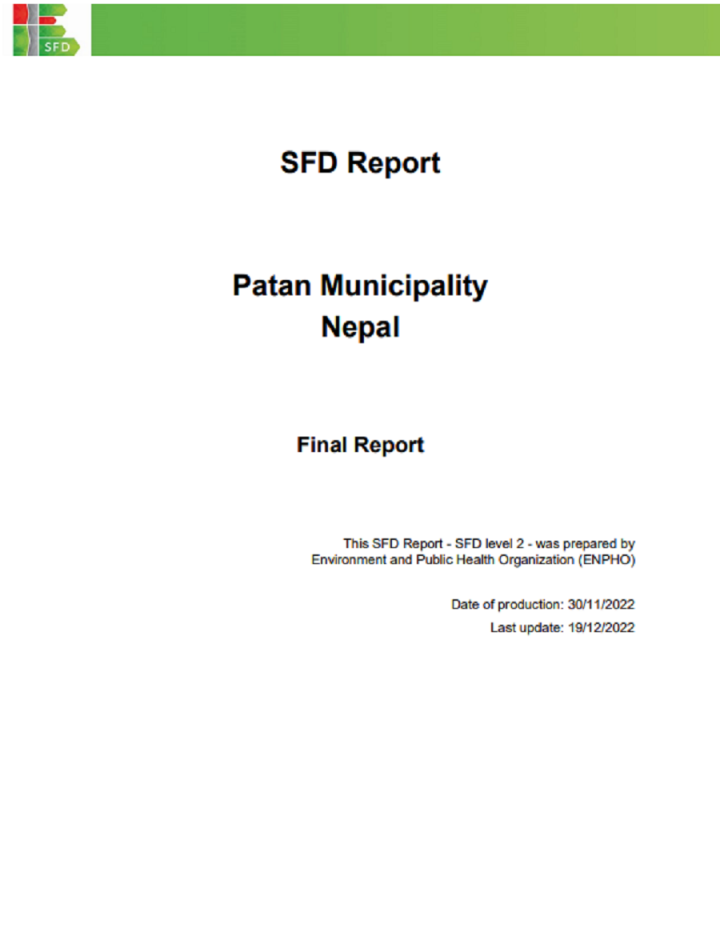 Author(s):
Published in: 2022
Pages: 45
Publisher: Environment and Public Health Organization (ENPHO)
Download
SFD Intermediate Report - Patan Municipality, Nepal
Patan Municipality is in Baitadi District, Sudurpaschim Province of Nepal. The municipality is extended to 219.26 km2. It is divided into 10 wards. The municipality is surrounded by Sigas rural municipality in the east, Dashrathchand municipality and Melauli in the west, Surnava and Dogada rural municipality in north and Dadeldhura district in the south.

According to Census 2011, the municipality has a total population of 30,435 with 13,991 males and 16,444 females residing in 5,767 households. Ward number 6 consisting of the core urban area has the largest population of 5,217, while ward 9 has the least population with 2,065. Also, ward number 6 has the most households with a total of 1,134, while ward 9 has the least number of households with a total of 344. The population density of the municipality is 138.81 people per square kilometre (CBS, 2011).

The overview of different sanitation technologies across the sanitation value chain in the municipality is briefly explained in this section. 99% of the households in the municipality have constructed a toilet. The households without toilet defecate in nearby farm and forest.
Keywords
Nepal, SFD Intermediate, South Asia